History & Gallery 2020
2020 Artists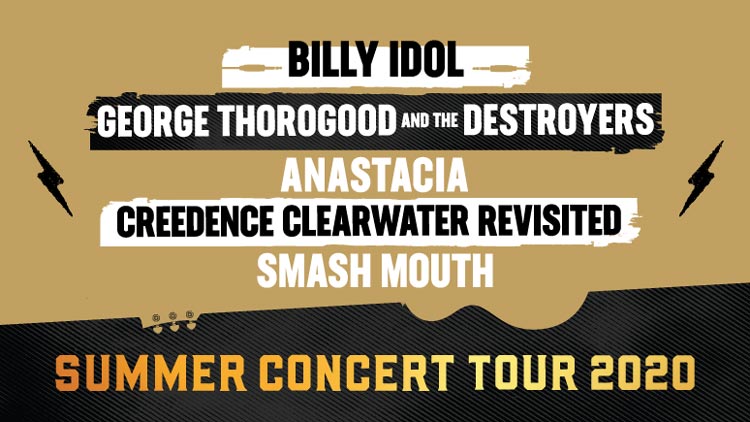 The annual nationwide Summer Concert Tour kicked off its anniversary celebrations in Queenstown on Saturday 18th January with the first of three sold out shows starring international music artists, Smash Mouth, Creedence Clearwater Revisited, Anastacia, George Thorogood & The Destroyers and BILLY IDOL.
Amanda Calvert, CEO of Greenstone Entertainment comments, "The 10th anniversary of the Gibbston Valley Winery Summer Concert has been one we'll remember for many years to come. Not only have the acts and music been amazing but we've been blown away by all the stories and fond memories that our fans have had over the past decade. We've had concert goers celebrating their birthdays, special anniversaries and even a couple who got engaged at one of the previous year's shows and decided what better place to get married and celebrate with friends and family than right here at the concert. As we take the tour to our sold out shows in Taupo and Whitianga next weekend, we're looking forward to showcasing our beautiful country to our international guests and to creating many more memorable experiences for our loyal fans".
Billy Idol
Billy Idol was an early architect of the sound, style, and fury of punk rock. His lip- curling sneer and fist-pumping persona vaulted him into the mainstream as one of MTV's first megastars, making him one of the most recognizable faces in pop music, while selling out shows everywhere he played. He has sold 40 million albums worldwide, 15 Top 40 singles in NZ including "Dancing With Myself, " "Rebel Yell," "Eyes Without A Face," "Flesh For Fantasy," and "Cradle Of Love", with his albums having spent 189 weeks in the New Zealand Top 40 album charts.
George Thorogood & The Destroyers
New Zealanders have a passion for the amped-up blues rock legends that are George Thorogood & The Destroyers. It will be nine years since George Thorogood & The Destroyers last performed in New Zealand. The band have amassed a huge catalogue of hits which were the staple of rock radio stations during the 80's including "Who Do You Love", "I Drink Alone", "One Bourbon, One Scotch, One Beer", "Move It On Over", "Get A Haircut" and the ultimate rock anthem, "Bad To The Bone."
Anastacia
There are singers all-round the globe that unleash a worthy listen, an enjoyable song and a memorable sound. There are very few singers in the universe who embed that utterly unique tone you instantly, undoubtedly recognize. Anastacia is just this. Her 9 studio albums have given her superstar status selling over 30 million records to date, with her album Not That Kind reaching No 1 in NZ and sitting on our charts for 30 weeks. 15 years after her breakout hit, "I'm Outta Love" Anastacia released The Ultimate Collection in 2015. This album saw the superstar return to her native label home of Sony Music, where she debuted and released her breakout smash hits including "I'm Outta Love", "Left Outside Alone" and "Paid My Dues"
Creedence Clearwater Revisited
Following their induction into the Rock and Roll Hall of Fame, Cosmo and Stu launched their Creedence Clearwater Revisited project in 1995 to once again perform live in concert their hit songs — touchstones of a generation.  Since then, the legendary rhythm section has been thrilled by the outpouring of affection for their new band.   World tours and a platinum selling album Recollection has followed.  The astounding response to the band and songs like "Fortunate Son", "Proud Mary", "Born On The Bayou" and "Suzy Q" has been driven in part by new generations of fans that, as Cosmo says, "weren't even born when the music came out."
Smashmouth
A look back at Smash Mouth's formative years shows a band determined to make an impact from the get-go. Formed in late 1994, the band immediately began recording demos and showcasing themselves in America. In 1997 the then unknown band is added to the highly influential L.A. radio station KROQ's playlist with "Walking On The Sun". Smash Mouth's first album Fush Yu Mang goes double platinum and sets the table for the band's 1999 quadruple platinum masterpiece Astrolounge, which includes the hits "All Star", "Then The Morning Comes" and "Can't Get Enough Of You Baby", all of which have featured in the NZ Top 40 singles charts. The band has also crossed over into the world of film, providing the heart of the Shrek soundtrack…and even making a cameo appearance in the 2001 comedy Rat Race.