History & Gallery 2019
2019 Artists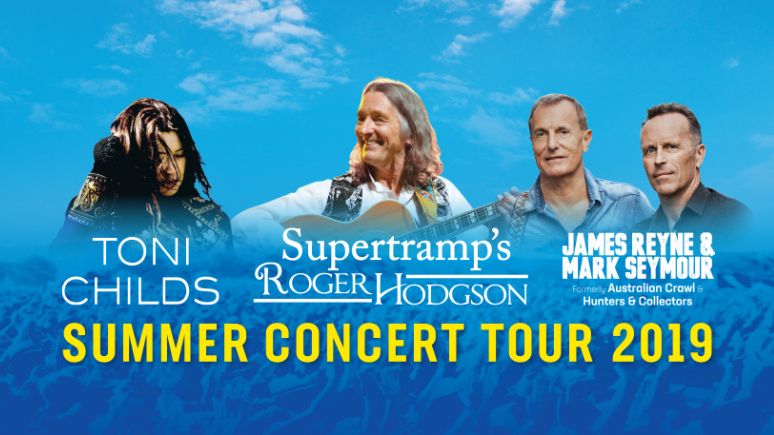 The 2019 Summer Concert Tour was played to 3 packed venues! With SUPERTRAMP'S Roger Hodgson, legendary singer-songwriter, performing all his SUPERTRAMP songs from the 70's and 80's, James Reyne (AUSTRALIAN CRAWL) and Mark Seymour (HUNTERS & COLLECTORS), playing classics and each of their solo works. Completing the amazing international line up will be the unmistakable and powerful voice of Toni Childs, who had the crowd in full voice.
Supertramp's Roger Hodgson
Hodgson co-founded the progressive rock band Supertramp in 1969. As the legendary voice, writer and arranger of most of Supertramp's greatest hits, that led to more than 60 million record sales, he's given us amazingly enduring songs such as "The Logical Song," "Breakfast in America," "Give a Little Bit," "Take the Long Way Home," "Dreamer," "It's Raining Again," "School," and so many others that have become the sound track of our lives. Supertramp's albums have spent an amazing 402 weeks in the New Zealand Top 40 album charts with Breakfast In America, Paris and The Very Best of Supertramp all peaking at No. 1, with Crime Of Century featuring in the Top 30 albums of all time.
James Reyne
James Reyne, formerly of Australian Crawl, released four studio albums in five frenetic years in the '80s before becoming a solo artist for the past 28 years, releasing eight studio albums, plus two acoustic collections, a covers album and two live albums. James' songs have provided the soundtrack to endless kiwi summers, including "The Boys Light Up", "Reckless", "Downhearted" and "Motor's Too Fast". James' songs have been covered by Paul Kelly and John Farnham, and he's had 19 Top 40 hits (seven with Australian Crawl, 12 solo) along with 10 Top 10 albums in Australia and was awarded the Order Of Australia in 2014 recognising his charitable work.
Mark Seymour
In 1981, Seymour formed Hunters & Collectors and was front man and songwriter until their split in 1998. He wrote the anthem "Holy Grail", which along with other hit songs including "Do You See What I See" and "Throw Your Arms Around Me", were just three of fifteen songs that featured in the New Zealand Top 40 singles charts. In 1997, whilst still officially part of Hunters & Collectors he released his debut solo album King Without A Clue, which earned him a nomination in the ARIA Music Awards of 1998 for Best Male Artist, as well as Best Debut Single with Last Ditch Cabaret. At the ARIA Music Awards in 2001 he won Best Adult Contemporary Album for One Eyed Man.
Toni Childs
When Toni Childs first burst onto the music scene in 1988, her unique, powerful voice set her far apart from other singers. Though what established her as more than just an iconic voice was her powerful song writing. It was honest and revealing and it resonated with both men and women around the world. Her NZ Top 40 singles hits include the unmistakeable "Don't Walk Away", Stop Your Fussin" and "Many Rivers To Cross". Toni's album 'Union' received two Grammy nominations and platinum sales around the world. Toni's second LP, 'House Of Hope' had a song featured in the classic film Thelma and Louise and the track "I've Got To Go Now" became an anthem for victims of domestic abuse around the world. Her 1996 LP, recorded at Peter Gabriel's Real World Studios, 'The Woman's Boat' earned Toni her third Grammy nomination. The coming years will see the wider release of two more albums; 'It's All a Beautiful Noise' and 'Citizens Of The Planet', both releases will offer experiences that are aimed to entertain, educate and enlighten.