History & Gallery 2016
2016 Artists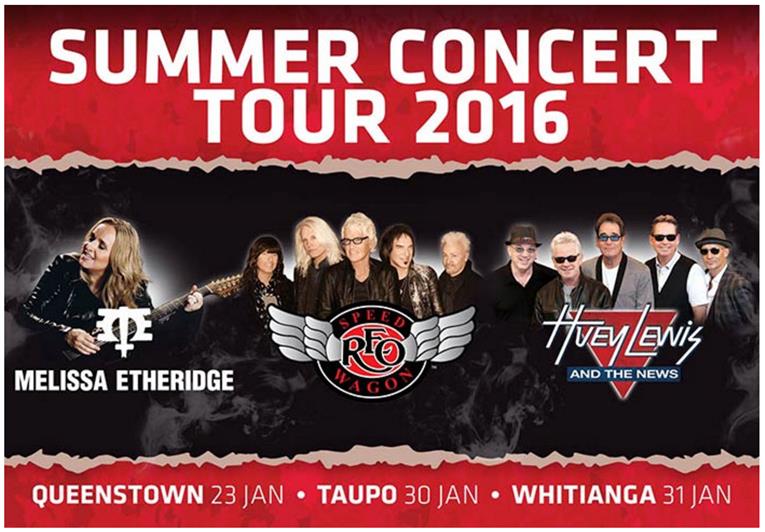 THREE OF ROCK'S SUPREME HEAVY WEIGHT ARTISTS CONFIRM DATES FOR NEW ZEALAND AS PART OF THE SUMMER CONCERT TOUR JANUARY 2016. HUEY LEWIS & THE NEWS, REO SPEEDWAGON & MELISSA ETHERIDGE ALL BRING THEIR ORIGINAL LINE UPS IN AN UNMISSABLE THREE DATE TOUR!
MELISSA ETHERIDGE
American rock singer-songwriter, guitarist, and activist Melissa Etheridge has been charming hearts with her raspy, smoky vocals since she first released her self-titled album Melissa Etheridge in 1988. Going from strength to strength she has been nominated seventeen times for Grammy Awards, winning twice for her well known hits 'Aint it Heavy' and 'Come to My Window' as well as receiving an Academy Award for Best Original Song 'I Need to Wake Up' in An Inconvenient Truth. Her latest album This is ME is her 12th collection of new material. For this vibrant collection she teamed with some of the most creative, inventive figures on the music scene: Jerrod Bettis (Adele, One Republic, Eric Hutchinson, Gavin DeGraw), Jon Levine (Nelly Furtado, K'Naan, Selena Gomez), JerryWonda (Grammy Award-winning producer of the Fugees, Mary J. Blige, Akon) and Roccstar (Usher, Chris Brown) at the forefront. Audiences can expect to hear both the Melissa they know and love and her latest and greatest.
REO SPEEDWAGON
Formed in 1967, signed in 1971, and fronted by iconic vocalist Kevin Cronin since 1972, REO Speedwagon is a band where the main constant over the decades is a never-ending desire to give their all to their fans, year in and year out. The band's younger fans might not realize the sheer impact REO has had on music and the culture of rock 'n' roll. Released in 1980 Hi Infidelity's millions in sales were fuelled by massive hit singles such as "Keep On Loving You" and "Take It On the Run." Thirty–plus years later, the nine-times certified platinum Hi Infidelity still remains a high-water mark for rock bands; the album spent 15 weeks in the #1 slot, a feat simply unattainable in music today. Alongside frontman Kevin Cronin bandmates are rock legends; Bruce Hall on bass, keyboardist Neal Doughty, Dave Amato on lead guitar and drummer Bryan Hitt. REO has remained busy since the band celebrated its 40th anniversary in 2007.
HUEY LEWIS & THE NEWS
Huey Lewis & The News are truly one of America's great rock & roll bands. As they enter their 36th year together, their contagious brand of music has outlasted countless trends, and is as fresh today as ever. Formed from two rival Bay Area bands in 1979, they continue to thrill audiences worldwide, selling over 20 million albums in the process, earning them the right to mark their place on the pop history map. These are the Grammy Award winners that have brought you 'If This is It', 'Heart and Soul','I Want A New Drug' and 'Power of Love' As great a recording career as the band has had, there is something extra special about a Huey Lewis & The News live show. They incorporate a variety of musical influences including R&B and soul to create their own unique sound. Frontman Huey Lewis' unmistakable voice has a rich, textured quality that lends itself well to not just their hits, but also to the variety of other songs featured in the show.